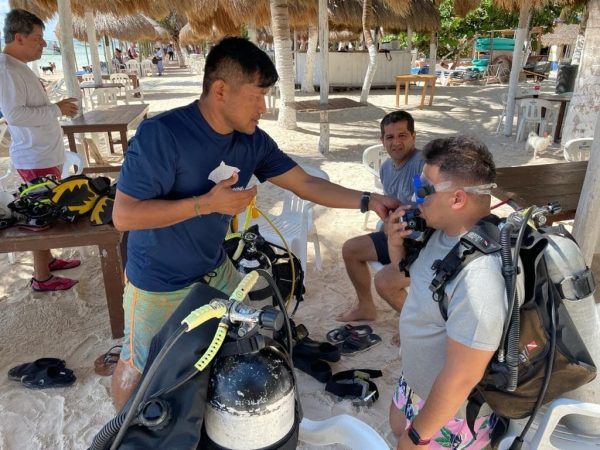 Mahahual Ecotours, established in November 2013 by Victor Rosales, is the embodiment of over 16 years of his expertise in the tourism industry. Victor's journey began as a Scuba Diving Instructor, honing his craft across Mexico and various global destinations. Through his international adventures, he gained a profound appreciation for the unparalleled allure of the Yucatan Peninsula. Captivated by its wonders, he returned to Mahahual after seven years, armed with local insights, tourism acumen, and an unyielding passion for nature, determined to unveil the very best of Mexico to both locals and visitors.
Nestled along the Caribbean Sea coast of Quintana Roo, Mexico, Mahahual, often referred to as the Hidden Jewel of the Yucatan Peninsula, boasts a rich Maya heritage. Formerly a quaint fishing village, Mahahual has transformed into a cherished haven, sought after by those seeking respite from bustling tourist hubs like Cancun, Playa del Carmen, or Tulum. Here, chain hotels and towering structures give way to soft sandy beaches, lush jungles, and the magnificent expanse of the Mesoamerican Barrier Reef just offshore. And yes, fresh fish and authentic Mexican cuisine are staples. In Mahahual, the perfect antidote to the everyday hustle, you'll discover a sanctuary to unwind and disconnect.
If you're a nature enthusiast, Mahahual is an extraordinary destination that beckons. Whether your passion lies in birding, snorkeling, scuba diving, jungle treks, mangrove kayaking, or the allure of camping beneath the star-studded Caribbean skies, Mahahual caters to every outdoor desire.
Moreover, Mahahual boasts a strategic location – a mere 40-minute drive to the enchanting town of Bacalar, an hour's journey to the Chacchoben ruins, and a little over an hour's reach to Xcalak, promising a plethora of additional incredible escapades.
Mahahual Ecotours extends a diverse array of day-tour options, ideal for those with a few hours to spare, as well as customizable multi-day/overnight expeditions tailored for adventurers yearning to embrace a genuine 'back to nature' experience.